You cannot overstate the value of a true dental marketing partner. As the world of digital marketing becomes increasingly competitive and complex, having a partner that is experienced in marketing, as well as the dental industry, will provide you with the best strategies and advice. A true dental marketing partner provides the necessary resources to ensure you get the most out of every marketing dollar invested. You will also achieve greater success in reaching potential patients, driving engagement, and ultimately increasing your practice's bottom line.
Experienced Consultant and Analysis Tools

  
A true dental marketing partner will have an experienced marketing consultant and analysis tools to provide you with strategic advice and the ability to build you an annual roadmap. Let's face it, you have enough to do daily, so why not find a trusted and proven team to help research and build the marketing strategy necessary to reach your goals? This team should give you a comprehensive view of your marketing efforts and determine where you can improve. This team should also work to identify your goals and objectives and develop a plan to help you reach them. 
Your dental marketing partner should provide analysis tools that allow you to review your current performance quickly and easily, provide content recommendations, and empower you to make joint data-driven decisions on how to improve. They will also be able to give insight into the best practices for SEO, lead generation, and other areas of dental marketing.

Find Your North Star

  
A true dental marketing agency can help you find your "North Star" or marketing goal. This "North Star" is the foundation of your marketing strategy, will guide you on where to focus your efforts, and will help you quickly ramp up quality new patients. This method will help you determine which channels and strategies you should focus on and which you should avoid. Having a defined "North Star" will illuminate a path to success.
Sometimes New Thinking is Necessary

  
As the industry continues to evolve, it is essential to have a team that is up-to-date on the latest trends and strategies. By having a knowledgeable partner in the industry, you can stay ahead of the curve and ensure that your marketing efforts are effective. A true dental marketing partner will also be able to provide you with new ideas and perspectives regarding your marketing efforts.
One-Stop-Shop "Sniff Test"
A good "Sniff Test" in finding a credible dental marketing partner is to ensure they can provide you with a one-stop-shop experience. This partner will be able to handle all of your marketing efforts from start to finish. They will be able to develop campaigns, track performance, analyze results, and provide you with reports on how your campaigns are performing. This partner will be able to ensure that all of your marketing efforts are working together to maximize your ROI. Each marketing campaign and advertising effort should be trackable, and the right partner can articulate and show you where things are working together in reaching your goals.
Visibility, and Accountability  (The Two "T's" of Marketing)
A dental marketing partner should also provide you with visibility and transparency. This partner should be able to provide you with a live dedicated team that knows you and your staff. A 24/7 results dashboard and a dedicated team should be available to answer all your questions confidently and transparently. They should also offer performance review calls to inform you how each campaign is performing and when it is time to change direction. (Check out our Gargle Results Dashboard for inspo…)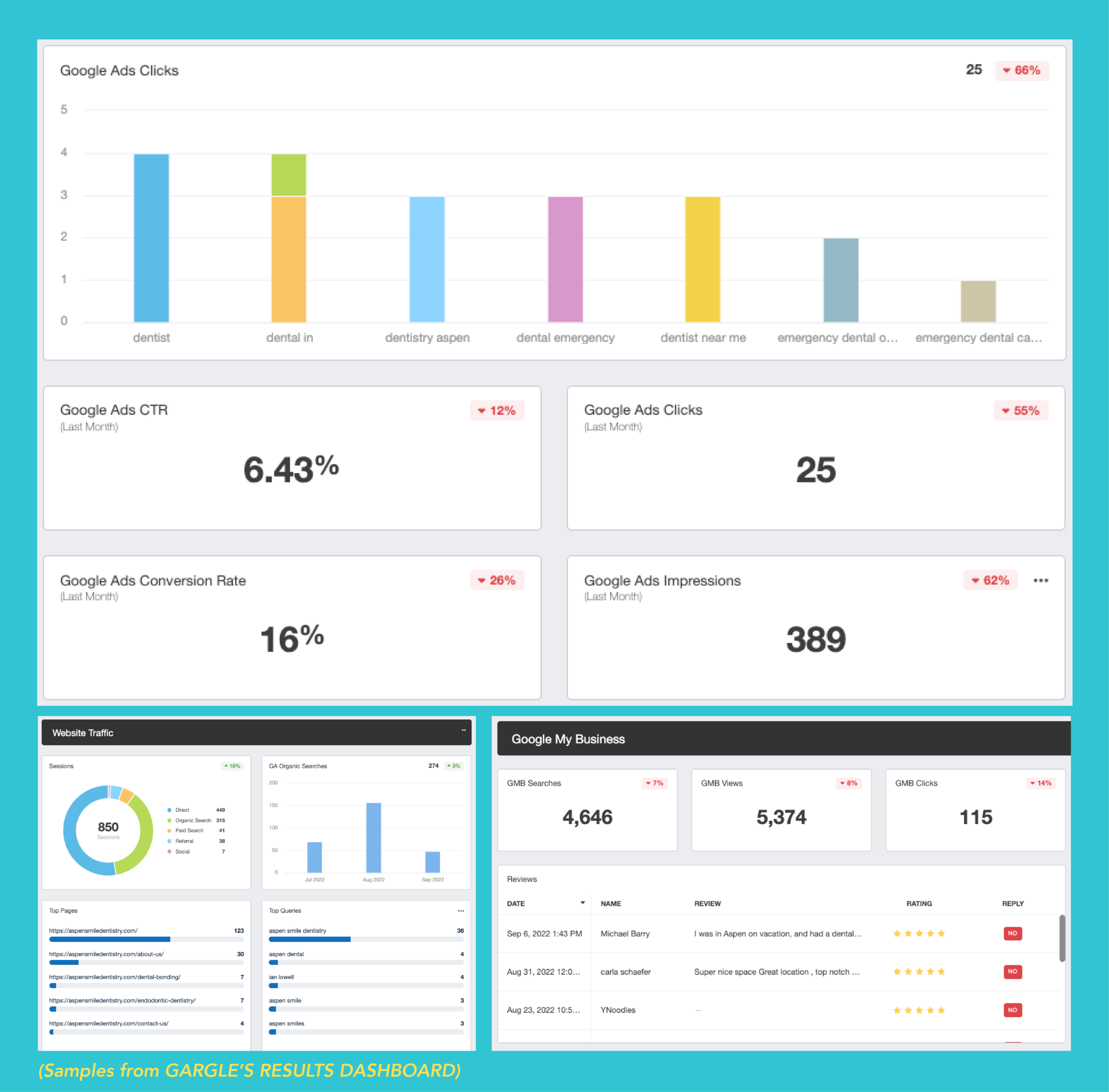 Still Looking for the Right Dental Marketing Partner?
Gargle specializes in helping dental practices maximize their online presence and increase their patient base through customized marketing plans that fit their needs. Our team of experienced professionals understands the dental industry, from marketing to patient acquisition and retention.
Does anything sound more bubbly and fun than a "Gargle Demo?" Book yours today!
Extraordinary company! They are efficient, competent, friendly, expedient, and more. Everyone responds to any request promptly. They listen and act upon your requests. We highly recommend Gargle. – Martinson Family & Cosmetic Dentistry