The Ultimate Question: What is SEO?
SEO stands for Search Engine Optimization. In short, it's the process of making your website rank higher and be more visible to potential patients who are searching online for dental services. 
Your website's ranking on Google, Bing, Yahoo, DuckDuckGo, and other search engines can be improved by SEO, which is, first and foremost, an ongoing, long-term strategy. Google's search algorithm uses more than 200 factors to rank websites. A lot of effort and hard work is required to get the outcomes that the majority of people desire. Additionally, it takes time, and you must stay up-to-date on Google's algorithm. You can't simply set it and forget it.
It's safe to assume that most dentists know that Search Engine Optimization (SEO) is the most effective technique to expand a company's online presence. However, you might be wondering what all the fuss is about – after all, you're providing a valuable service to your patients, so why do you need to market yourself too? But the truth is, without good SEO techniques in place, potential patients may never even know about your practice! And that's where strategic SEO comes in.
Keyword Research
Content Writing
On-page Link Building
Backlink and referring domain management
And so much more!
Okay…But Why is SEO Important?
Because nearly 80% of patients research their options online before choosing a dentist, it's more important than ever to ensure your dental website ranks high in search engine results. 75% of people never scroll past the first page of search engines. A good SEO strategy can help you attract new patients and grow your practice.  
It is critical to utilize a dedicated marketing partner who specializes in helping dentists optimize their websites for search engines to attract more quality patients. SEO experts can help with keyword research, content creation, backlink building, and much more. Transparent and consistent reporting with an SEO strategist helps you stay on track as you continue growing your dental practice. 
Content Marketing and Keyword Research
Keywords are no longer the only SEO strategy that matters. Yes, they are still essential, although today, for keywords to be effective in your content, they must be thoroughly researched, evaluated, and used correctly.
Today, searchers don't typically use one- or two-word keywords. People search using phrases, which are sentences with three words or more, known as long-tail keywords. Studies show that more than 54% of search queries are at least three words long.
At Gargle, we perform extensive keyword research to uncover high search rates and low competition. We also look at your competitors in your area to see what they are ranking for and which keywords have an opportunity for your practice to rank for.
Aside from keyword research and optimizing the researched data in your favor, we recommend you not overlook the need to optimize all your titles, URLs, and other on-page SEO components for maximum impact. However, as mentioned above, paying attention to Google's algorithm and optimizing your content to match its guidelines is also essential. Google's new algorithm change that rolled out in August 2022 says, "… the 'helpful content update' is part of a broader effort to ensure people see more original, helpful content written by people, for people, in search results." This update means your content must be instructive but also compelling, relevant, and helpful. Google is looking for things like
Is the writing done with the patient's concerns, goals, objectives, or questions in mind?
Do you believe the information on the page?
Do people who visit your website know whether they've found a solution to their question before they leave a page?
Google changes its algorithm often. That is why it is crucial to have professional on-page SEO experts who constantly stay up-to-date on all things Google and SEO.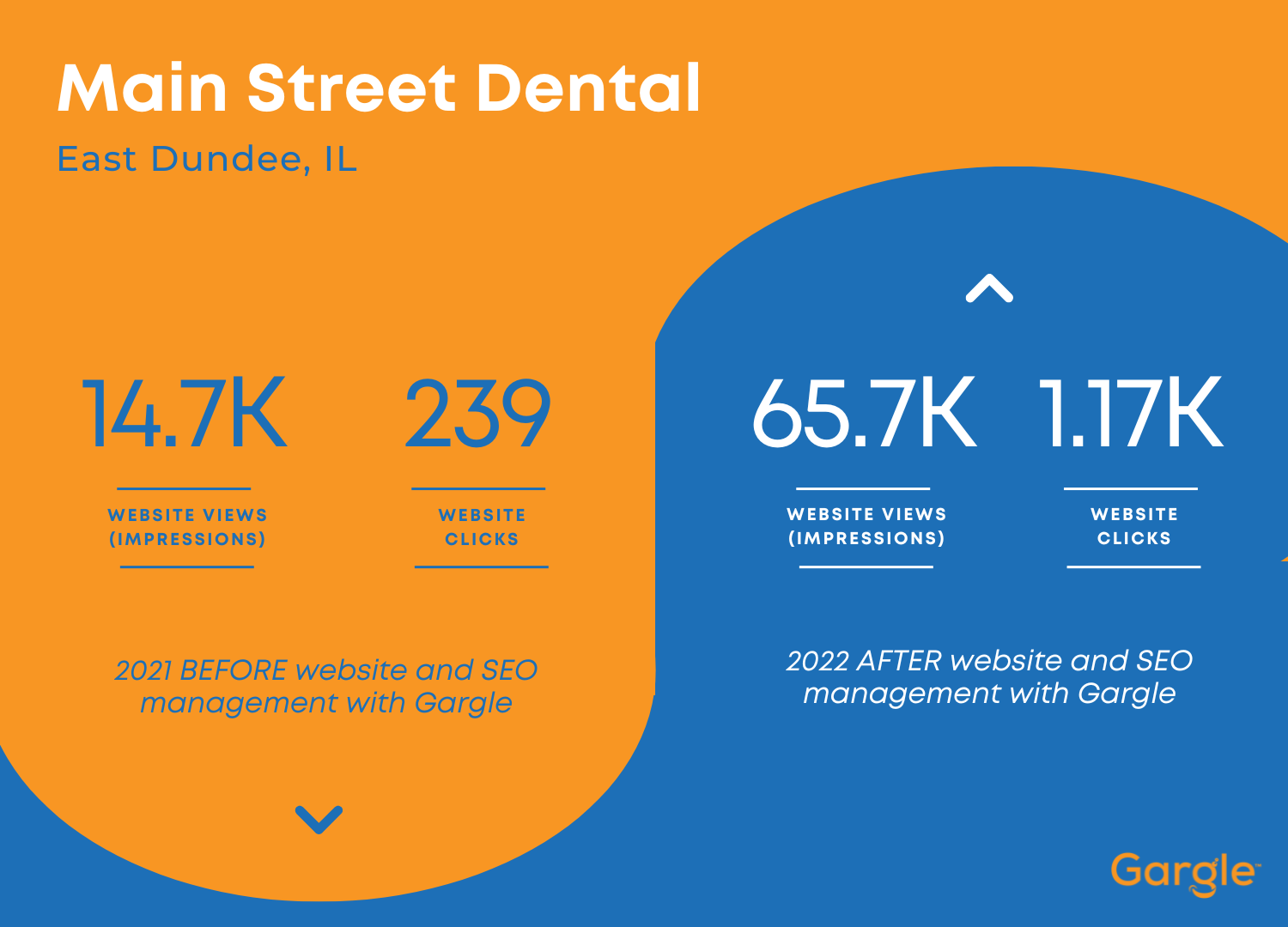 Psst…Small Pro Tip
One thing is certain: your overall dental website design will be important with this latest algorithm change. You'll have complied with Google's standards if your website design is appealing, has obvious calls to action, promptly answers visitor questions, and promotes engagement with the page. If you are worried your website falls short of Google's requirements, you can request a free website/SEO analysis HERE.
Off-Page SEO and Backlinks
Building links is a crucial component of any off-page SEO strategy in light of Google's algorithm change. Off-page SEO is optimizing a website for higher search engine rankings through activities outside the actual site. Off-page SEO can include link building, social media activity, localization, and other off-site optimization tactics.
One of the most important aspects of off-page SEO is backlinks. Backlinks are links from other websites to your dental practice's website. Having backlinks is vital because they act as a vote of confidence from other websites. The backlinks tell search engines that your site is reputable and that people find it useful or relevant. The more quality backlinks you have, the higher your site will rank in search engine results pages (SERPs).
There are many benefits of backlinks for dental practices. They can help you attract new patients, build trust and credibility, and improve your SEO. To help improve your SEO, you'll want an experienced off-page backlink specialist who focuses on building high-quality backlinks from relevant and reputable websites. Backlink building demands imagination, planning, and tenacity, all with a well-thought strategy – which is no easy feat. It is important to focus on domain diversity, especially links with a higher Authority Score, as this will help best build upon your focused keywords. 
Reporting and Strategy
Want to know the best thing about SEO? It's quantifiable. While SEO is a long-term strategy (meaning results don't happen overnight), you can still measure your success with proper tracking and analytics, not to mention your new patient flow each month. 
Expand Your Online Presence with Gargle's Page 1 SEO Strategists
Stay caught up in the world of online dental marketing! Our phones are always on, and we are standing by to help answer questions and be an open resource to those seeking to better understand what direction they need to take with their next SEO steps! Here's to higher rankings…or are they lower??? It's really as complicated as we often make it sound.
You got this! 
Gargle is a great company to work with! Everyone who we have worked with on the Gargle team is very professional and helpful. They have been helping us keep our social media fun and active by providing great ideas and content. They have helped us boost our reviews and have helped us improve our website. We have had amazing success with Gargle! – Dr. Brian D. Valle