In the fast-paced digital age, where marketing strategies are predominantly focused on online channels, a timeless method continues to deliver impressive results in the dental industry – dental postcards. However, like any marketing strategy, success lies in understanding and implementing the best practices. In this guide, we'll explore the dos and don'ts of dental postcards to ensure that your direct mail campaign stands out and yields exceptional returns on your investment.
DOs:
DO Choose the Right Direct Mail Provider:

When it comes to dental postcards, your choice of a direct mail provider can significantly impact the success of your campaign. Avoid using the US Post Office EDDM for dental direct mail due to its many limitations, and consider opting for a reputable company like DentalMarketing.net, which has created and mailed over 400 million dental postcards. This ensures a seamless process, access to expertise, and great results. DentalMarketing.net's dental direct mail strategies, built over the last 14 years, are geared towards several outcomes, including practice growth, new patient acquisition, increased brand recognition, and higher conversion rates for incoming calls.

DO Build a Proper Mailing List:

A successful direct mail campaign starts with a carefully curated mailing list. Identify your target audience – potential dental patients in your local area – and use demographic and geographic data to narrow down your list. DentalMarketing.net stands out in this regard, as it uses one of the few vendors authorized to scrub mailing lists directly with the Post Office for optimal accuracy.

In the dynamic landscape of dental marketing, success isn't merely about sending out postcards – it's about sending them to the right recipients. It's an art that requires more than a scatter-shot approach. Many practices fall into the trap of sending generic postcards without realizing the true magic lies in targeting the ideal audience with a well-scrubbed mailing list. This is where focused demographics and mailing lists emerge as game-changers. This strategy's heart is the understanding that reaching the right patients requires an intentional approach. DentalMarketing.net emphasizes the significance of creating marketing with your optimal patient in mind. 

In addition, DentalMarketing.net takes it a step further by creating a visual representation of the office's market analysis. They develop detailed maps overlaying actual patient addresses, effectively showcasing the distribution and concentration of potential and current patients within a region. This mapping technique offers an invaluable perspective, enabling dental practices to visualize their patient base, understand geographical patterns, and make data-driven decisions.

 
You can uncover the nuances of your community's wants and needs by tapping into statistical data and area-specific insights. This profound knowledge empowers you to craft postcards that resonate deeply with your target audience, creating a genuine connection that sparks interest and drives action. With DentalMarketing.net, precision isn't just a concept – it's the guiding principle that propels your dental marketing efforts to reach new heights of success, one tailored postcard at a time.
DO Track Your Campaign:

One of the significant advantages of dental postcards is the ability to track your campaign's success. Unlike other marketing methods like Google Ads or pay-per-click, direct mail offers easy tracking and proof of return on investment (ROI). 
DentalMarketing.net provides robust tracking and support, allowing you to monitor your campaign's performance and make informed adjustments. In fact, dental practices utilizing the program experience a substantial average return on investment (ROI) of 627%, showcasing their approach's effectiveness. One of Gargles' clients, Prince Dental Group, has been mailing postcards for over 14 years and has come to depend on direct mail postcards as their primary source of New Patient phone calls. They average over 400% ROI month in and month out. Here is an example of a postcard that they sent out: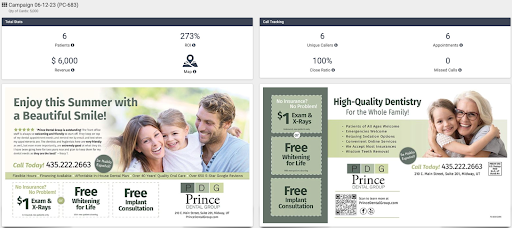 Read the
testimonials
from hundreds of other dentists who have run direct mail campaigns with DentalMarketing.net.
DentalMarketing.net redefines how dental marketing campaigns are assessed with its cutting-edge call tracking system. Each stunningly designed postcard has a distinct phone number that seamlessly directs to your primary office line. This proven dental call-tracking technique provides real-time insights into the calls generated by your campaign. But DentalMarketing.net goes beyond tracking – they actively listen to every call. Armed with a keen understanding of the industry, their call scorers evaluate each interaction against seven key performance indicators (KPIs). This rigorous assessment delves into the nuances of caller tone, receptionist professionalism, appointment scheduling, and more. The culmination of this process is valuable reporting illuminating your office staff's strengths and opportunities for improvement. With DentalMarketing.net, your dental marketing campaign becomes a dynamic endeavor driven by data-backed insights, allowing your practice to continuously enhance patient engagement and results. Here is an example: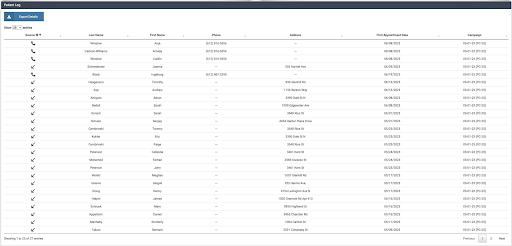 DO Design a Compelling Postcard:
Your dental postcard's design is crucial to capturing recipients' attention. Ensure your postcard includes a captivating offer, testimonials from satisfied patients, a clear call-to-action (CTA), your dental practice's website, a call tracking phone number, and pricing information. DentalMarketing.net can help you craft an engaging and visually appealing design that resonates with your audience.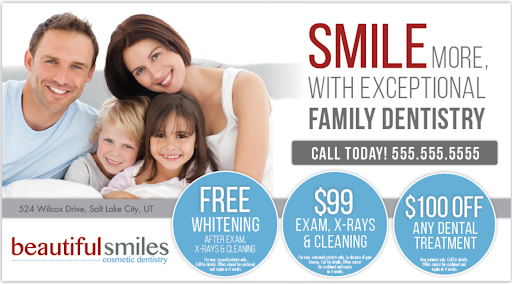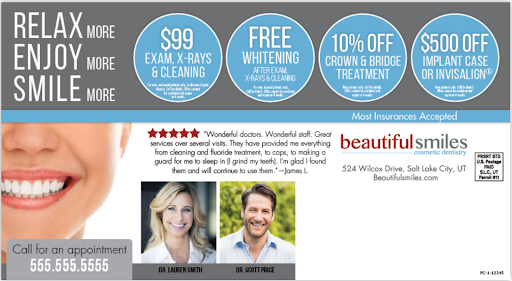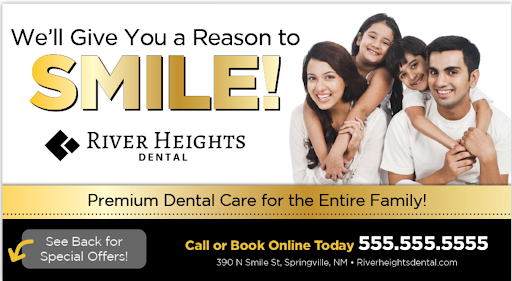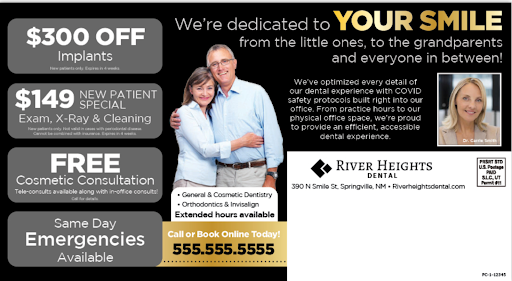 Crafting an effective postcard design involves a careful balance of various elements that together create a compelling message. In the realm of dental marketing, these best practices are incredibly crucial. A successful dental postcard design starts with attention-grabbing headlines that pique interest. High-quality images showcasing healthy smiles and a professional environment build trust. Clear and enticing offers cater to their needs, while strong call-to-action (CTA) phrases prompt immediate action. Incorporating patient testimonials cultivates trust by showcasing real experiences. Including additional information about services or specializations can educate potential patients. Lastly, ensuring prominently displayed contact information empowers recipients to take the next step seamlessly. By adhering to these best practices, a well-crafted dental postcard design becomes a potent tool that engages and converts recipients into valued patients.
5. DO Target Your Mailing Area Strategically:
Targeting your mailing area is essential to avoid saturation and maximize your campaign's impact. Use pie charts and segmentation to determine the optimal mailing radius – usually within five to 10 miles of your dental practice. Utilize heatmaps to visualize your mailing area and refine your targeting further.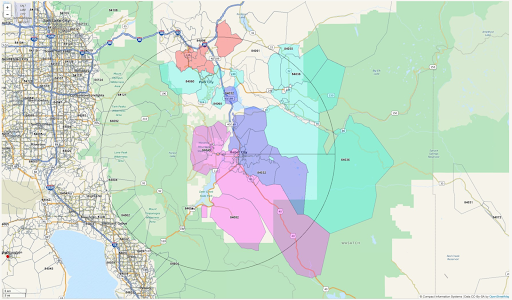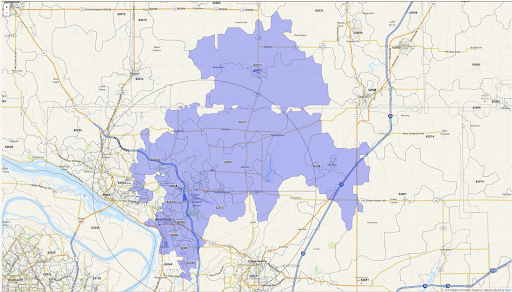 DentalMarketing.net's dedication to a seamless postcard campaign extends to the final stages with attention to detail. As part of the printing process, their skilled team affixes addresses from the meticulously curated mailing list they've crafted in collaboration with you. The experienced fulfillment team reviews the mailing area's quality and confirms that the call tracking numbers on your dental postcard campaign are seamlessly routed to you. To ensure an optimized campaign launch, the postcards are drop-shipped to your local post office midweek, strategically timed for strong call response through targeted start-of-week delivery. This strategy enhances the likelihood of a robust call response and minimizes calls lost during the delivery process. By orchestrating this precise process, DentalMarketing.net aims to deliver a postcard campaign that engages and ensures effective tracking and a smoother journey from print to potential patient interaction.
DON'Ts:
DON'T Rely Solely on the US Post Office:
The US Post Office might not offer the customization and accuracy needed for a successful dental postcard campaign. Choose a trusted direct mail provider like DentalMarketing.net to ensure your campaign's effectiveness.
While the US Postal Service has long been a cornerstone of communication and mail distribution, its EDDM direct mail service comes with limitations. One of the most significant drawbacks lies in its lack of customization and targeting options. Unlike specialized direct mail providers, the US Postal Service often falls short in allowing practices to fine-tune their audience targeting, leading to a scatter-shot approach that may not yield optimal results. Additionally, tracking and real-time insights are often limited through traditional USPS mail, leaving you in the dark about the impact of their campaigns. In an era where precision and data-driven strategies are paramount, these limitations can hinder the effectiveness of direct mail efforts. Consequently, forward-thinking dentists often seek alternative solutions, such as reputable direct mail companies like DentalMarketing.net, that offer a more strategic and customizable approach to achieving their marketing goals and ROI targets.
DON'T Neglect Mailing List Quality:
A poorly curated mailing list can waste resources and result in poor campaign results. Invest time in refining your list and leveraging the expertise of DentalMarketing.net to ensure accuracy.
DentalMarketing.net goes the extra mile to ensure the precision and effectiveness of your dental marketing campaign. Prior to launching any initiative, they engage in thorough preparatory research, underpinning their commitment to excellence. Through their proprietary software and collaborative feedback from you, DentalMarketing.net dives deep into your vision of attracting new dental patients, tailoring their approach to your practice's unique goals. This process yields a targeted mailing list and a comprehensive demographic report outlining the characteristics of your target audience in the practice's vicinity. This invaluable data informs your postcard's design and marketing offers and serves as the compass for effective patient targeting.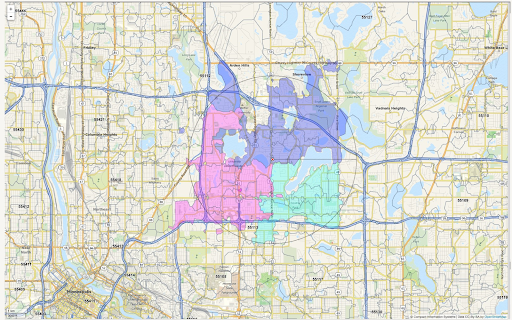 By deciphering potential barriers and opportunities, DentalMarketing.net ensures that your direct mail campaign is not just a shot in the dark but a precisely calculated move toward practice growth and success. With DentalMarketing.net, your dental marketing strategy is built on a foundation of strategic intelligence and a commitment to deliver meaningful results.
DON'T Overlook Tracking and ROI:
Direct mail's advantage lies in its trackability. Neglecting to track your campaign's performance means missing out on valuable insights. DentalMarketing.net's tracking tools can empower you to optimize your campaign for better results.
At DentalMarketing.net, their distinct focus lies in delivering unparalleled ROI reporting that sets them apart in the dental marketing landscape. They pride themselves on keeping you firmly in control of your dental marketing campaigns, providing you with constant updates on your practice's progress. Their commitment to transparency comes to life through their 24/7 access dashboard, granting you real-time insights into the results of the campaigns you've partnered with them to implement. Guided by their expert dental marketing consultants, you'll receive comprehensive dashboard training that dives into your mailing outcomes during each cycle.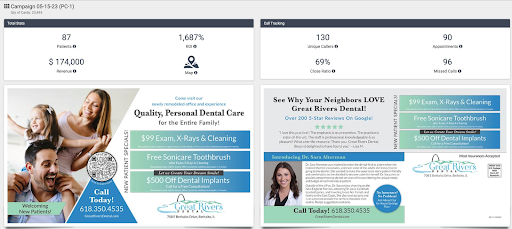 Their cloud-based reporting software gives you an all-encompassing view of your campaign metrics, card design, customized map area, call volumes, and booked appointments. With just a few clicks, you can listen to call recordings, offering a powerful tool to assess staff performance and patient interactions. The dashboard isn't just a tool; it's a comprehensive resource that keeps you informed and equipped to drive practice growth. Notably, even missed calls are transformed into opportunities. Their dashboard showcases missed calls and their contact information, allowing you to reach out proactively and update your dashboard results for accurate reporting. Their commitment is clear: to provide you with intelligent, data-driven insights that enable you to make strategic decisions, optimize your practice's growth, and excel in the competitive dental landscape.
DON'T Underestimate Design Importance:
A postcard's design directly impacts its effectiveness. A cluttered or unappealing design can deter recipients from engaging with your message. Rely on DentalMarketing.net's design expertise to create a visually appealing and impactful postcard.
With an impressive track record of mailing hundreds of millions of postcards exclusively tailored for dental practices, DentalMarketing.net is a beacon of knowledge and expertise in dental direct mail campaigns. Their seasoned marketing and design teams are poised to offer you an unparalleled dental marketing experience. Having gained invaluable insights through analyzing countless card responses, DentalMarketing.net is finely attuned to customer needs, understanding which designs and offers yield the most robust reactions.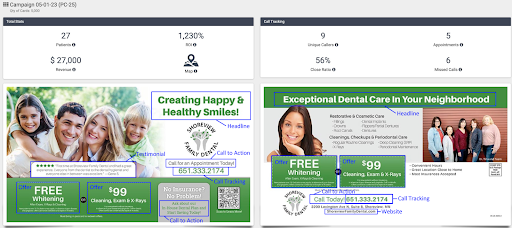 Your journey with DentalMarketing.net begins with a tailored questionnaire, which is the foundation for their design team to curate a custom postcard that embodies your professional branding, dental services, and enticing new patient offers. Beyond this, their adept team skillfully crafts impactful taglines, call-outs, offers, and design elements that synergize to ensure the success of your unique dental postcard. With DentalMarketing.net, your dental direct mail campaign is more than just a marketing endeavor; it's a strategic partnership that leverages a wealth of experience and expertise to bring your practice to new heights of success.
DON'T Neglect Targeting Strategies:
Avoid broad mailing strategies that lead to saturation. Instead, employ neighborhood route mailings and consider new move-in mailers for a smaller but potentially higher ROI. DentalMarketing.net can guide you in making the right targeting choices.
Studies reveal that approximately 13% of individuals relocate each year, marking a substantial portion of the population in constant flux. Leveraging this insight, targeting new move-ins emerges as a powerful avenue for dental practices to explore. Statistics demonstrate that new move-ins convert into patients at a notably higher rate. Moreover, these newcomers and their families exhibit a spending pattern that is six times greater during their initial six months in the neighborhood. Dental practices can strategically capitalize on this trend by recognizing the heightened receptivity and economic activity surrounding new residents. Integrating this approach within direct mail campaigns is a strong move, allowing practices to tap into a responsive audience and maximize their engagement, conversions, and returns. In dental marketing, aligning with the mobility of modern society emerges as an effective path toward elevating practice growth and establishing long-lasting patient relationships.
Dental Postcards: Your Secret Weapon for Patient Acquisition
Dental postcards offer a timeless and effective marketing strategy for dental practices. By following the dos and don'ts outlined in this guide, you can ensure that your direct mail campaign stands out, engages your target audience, and delivers a remarkable return on your investment. With Gargle and DentalMarketing.net as your partner, you'll have the tools, expertise, and support needed to make your dental postcard campaign a resounding success.
Exclusive Pricing, Extraordinary Results: Gargle's Expertise at Your Service
At Gargle, we are proud to be your partner in launching a successful dental postcard campaign. As a Gargle member, you can access an exceptional perk – exclusive pricing with remarkably low rates – designed to elevate your marketing efforts, but that's not all. With Gargle, you're not left to navigate the intricacies of the campaign alone. Our dedicated team takes the reins, overseeing everything from design and customization to seamless mailing and comprehensive tracking of all mailers. This full-service approach ensures that your postcard campaign is executed flawlessly, maximizing its impact and saving you valuable time and effort. The road to a successful postcard campaign begins with Gargle. Discover the difference firsthand – schedule a demo today and embark on a journey towards elevated marketing outcomes.