As digital marketing becomes increasingly more complex, managing your Google and social ads is becoming more critical than ever. With the rise in digital ads, it's essential to know how to manage your dental online ads for maximum efficiency and performance. Whether you're a small or large practice, understanding the fundamentals and best practices of managing your Google and social ads can help you maximize your ROI. Here are five tips for managing your dental ad campaigns:
1. Ad Content:
Developing relevant and persuasive ads is essential for successful campaigns. Ensure your ad content is targeted to the right audience and speaks to their needs or desires. Take the time to craft a compelling message that stands out from other ads in the same space.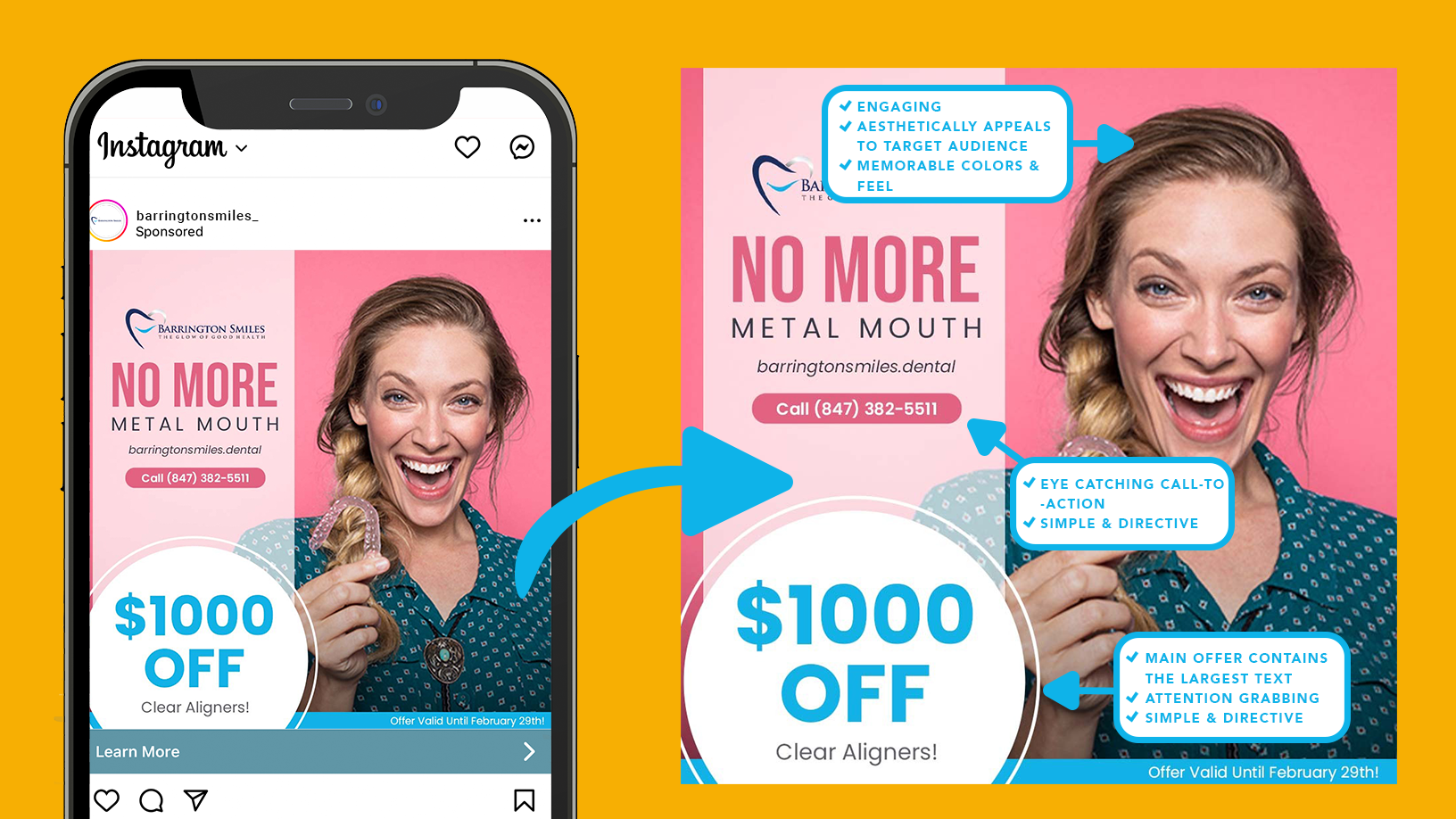 Ad content is extremely important for social and Google ads, especially when it comes to promoting a dental practice. When crafting an ad for a dental practice, creating informative, engaging, and memorable content is essential. The ad should provide information about your practice's services, your team's experience, and the benefits of choosing your practice. The ad should include a call-to-action, such as "schedule an appointment" or "contact us now."
In addition to providing information about the practice, the ad content should be tailored to the audience. For example, if the practice targets a younger demographic, the content should be more casual and lighthearted. The content should be more formal and educational if the practice targets an older demographic. Using keywords and phrases relevant to the practice and the target audience is also essential. This ensures that the ad is seen by those more likely to engage with it.
Finally, you should optimize your ad content for both social and Google ads. Optimization means that the content should be concise yet comprehensive. It should be engaging yet professional. It should be highly targeted. Optimizing ad content for both platforms helps to ensure that the ad reaches the right people and supports the practice of getting the most out of their ad budget.
2. Ad Optimization:
Ad optimization for dental Google and Social Ads is a key element of any successful online marketing strategy. It is vital to regularly optimize your ads to ensure they are performing as efficiently as possible to increase your reach and conversions while also reducing your cost-per-click. Optimization can include changing the ad copy, design, or targeting to get the best ROI. You should also monitor the performance of your ads to determine which ones are working best and adjust your strategy accordingly.
Daily tweaks and ad testing are essential for any dental practice's Google and social ads. Dental practices can determine which strategies are most effective in driving clicks and conversions by making minor adjustments and testing different ad variations. Daily adjustments allow dental practices to identify which ads are performing well and which need improvement or replacement. You should also look for keywords that are not performing as well as expected and adjust bids accordingly. Additionally, ad copy, images, and other elements should all be tested to see which variations drive the most clicks and conversions.
Finally, it's important to remember that ad testing and tweaking is an ongoing process. Dental practices can ensure their ads are always up-to-date and effective by making small adjustments and testing new strategies. This can help them maximize click-throughs and conversions and make the most of their ad budget.
Many dentists do not have the time or resources to manage their online advertising campaigns on a daily basis. They may start a campaign but then forget to make the necessary changes or adjustments to ensure the campaign is running optimally. In the long run, they lose both time and money. Losing money is why many dentists turn to experts like Gargle to manage their online ads. 
3. Seasonality/Timing:
Dentistry's seasonality is important for successful social and Google Ad campaigns. It is vital to consider the time of year when planning your digital ad campaigns. For example, if you are running an ad for a holiday promotion, you should ensure the timing is optimal to reach the right audience at the right time.
The summer season is essential for dental practices to market their services. With more people staying at home and being on their phones more, it is an excellent opportunity to reach potential patients. In fact, Samsung recently found that smartphone use increases by 42% in the summer months. Dental practices can reach more potential patients through digital marketing, such as social media and email campaigns. 
Postcards can be a great option for dental practices looking for an even more direct approach to marketing. Recent studies from DentalMarketing.net found that the average confirmed return on investment for postcards is over 12K in the summer months. This ROI makes postcards an attractive option for dental practices looking to increase their visibility and reach more potential patients.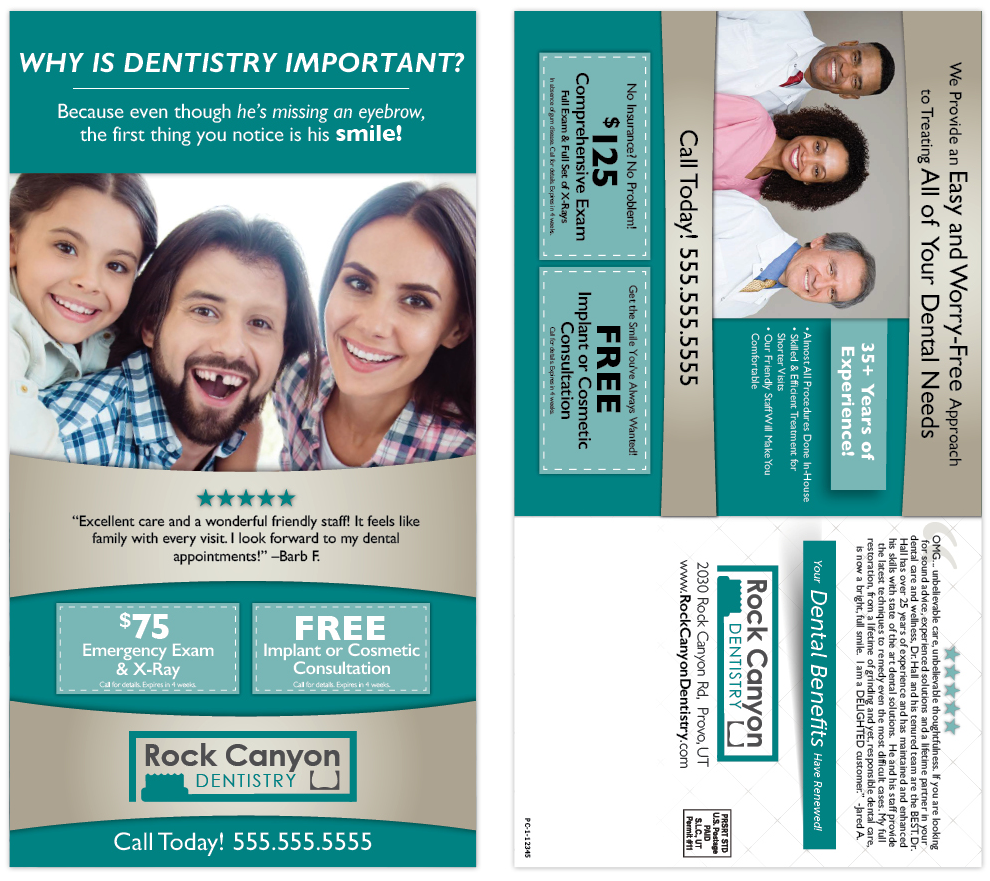 Overall, the summer months are a critical time for dental practices to market their services. With more people online and the potential for a great ROI, dental practices should take advantage of the opportunity to reach potential patients through digital marketing and direct mail campaigns.
Another time of year for dental marketing is the spring and fall. During these months, dentists can focus on promoting cosmetic treatments such as whitening, veneers, and bonding. In addition, they should emphasize the importance of regular dental checkups and preventive care and encourage good oral hygiene habits. In fact,  Dental Economics found "December, January, and February are the biggest crown and bridge months for most practices. This is due to dental insurance." So take advantage end of year insurance reminders.
4. Campaign Run Time and Dental Ad Spend:
Ad spend is an essential factor to consider when running any dental ad campaign, whether through social media or through Google Ads. Your ad spend is the amount of money you are willing to invest in your ad campaigns to reach your target audience. The amount of money you spend will depend on the type of ad campaign you are running, the size of your target audience, and the level of competition in the marketplace. 
The length of time your ad campaigns should run is also an important factor to consider. Generally, it's recommended that you run your ad campaigns for at least three months to give them enough time to reach the right people and generate the desired results. These three months are especially true for Google Ads, where you need to give your campaigns time to gain traction, mature, and get the most out of your budget. You are also giving yourself time to tweak and optimize the campaigns as needed to get the best possible results. The run time can help you save money in the long run by ensuring that your ad campaigns are as effective as possible.
Many dentists don't understand that results don't happen overnight when it comes to Google and social ads. They expect immediate results when their ads turn on. This is simply not the case. It's vital to give ads time to perform. Even with a well-crafted ad, it can take a few weeks or months to achieve the desired performance. It's important to remember that Google and social ads are long-term strategies. It takes time, effort, and patience to get the desired results. It requires time and dedication, and it's important to have realistic expectations regarding results.
5. Using a Marketing Consultant:
Hiring a marketing consultant, like Gargle, to manage your dental Google and Social Ads can be beneficial. An experienced marketing consultant can help you create and optimize effective ads, manage your ad spending, and develop strategies to get the best ROI.
A marketing consultant is well-versed in the latest trends in digital advertising. They understand the nuances of Google and social media advertising and can create campaigns that target the right people and get the best results. Your consultant should have the experience and knowledge necessary to create effective campaigns to reach potential patients, especially when it comes to marketing in the dental world. 
They can help you analyze your data and measure the success of your campaigns. With this data, they can adjust the campaigns accordingly to ensure they reach the right people and get the best investment return.
They can monitor the competition and provide ideas for staying ahead of the curve. They can also help dentists create innovative campaigns that stand out from the competition and capture the attention of potential patients.
Hiring a marketing consultant is essential for dentists who want to maximize the success of their Google and social ad campaigns.
Harnessing the Power of Gargle for Google and Social Ads
Gargle can help dentists create, manage, and optimize their online advertising campaigns. We can track the performance of the campaigns, ensuring that they are reaching the right audience and delivering the right message. We can also help with budgeting and targeting so that the campaign reaches the right people at the right time.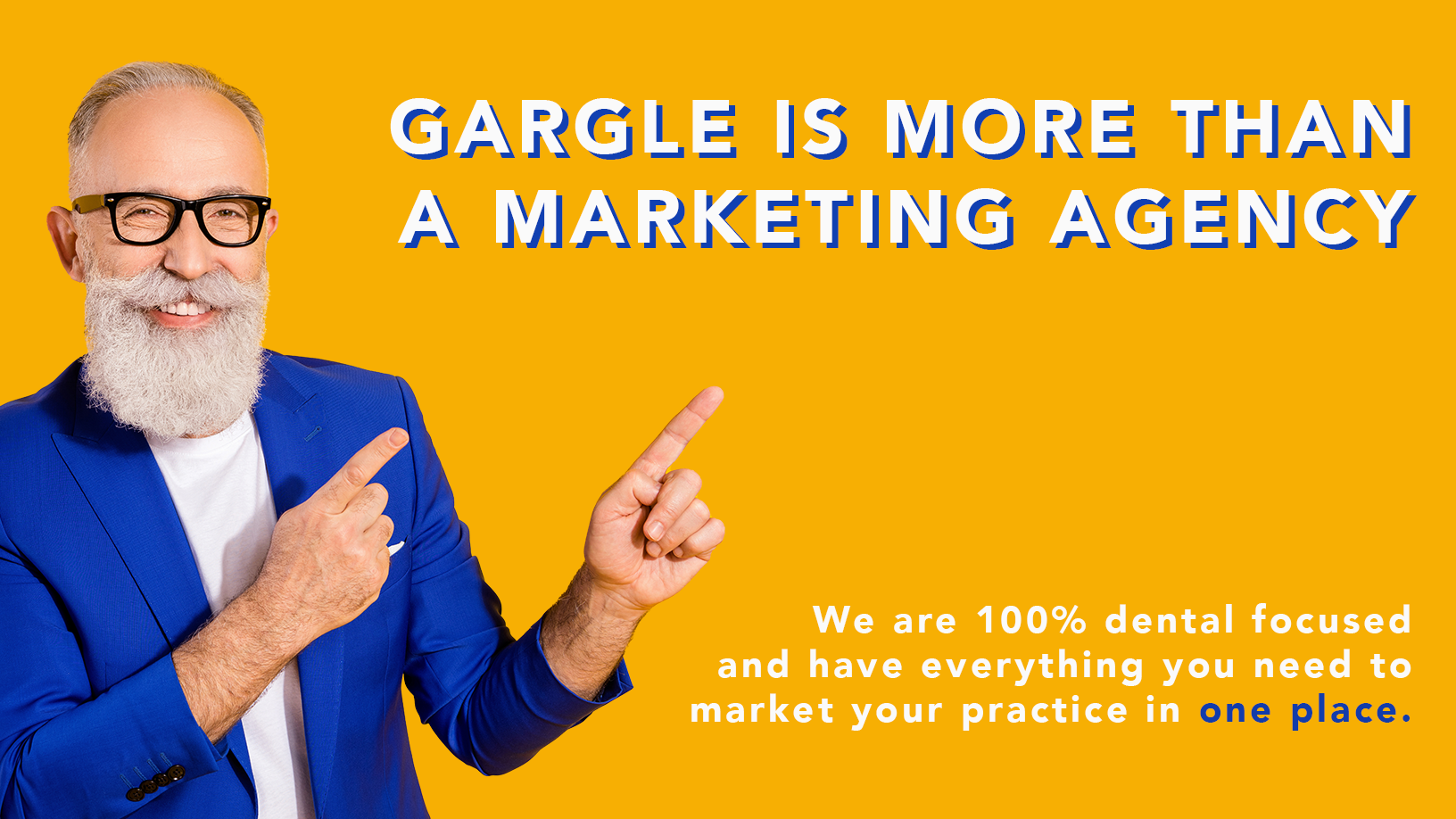 At Gargle, we help dentists stay on top of their campaigns by providing detailed reports and analytics. This information helps us change your campaigns to ensure you get the most out of your advertising budget. We can also use the data to adjust targeting, budgeting, and messaging to increase conversions and ROI.
These tips can help you get the most out of your Google and Social Ads. With the right strategy and management, you can achieve successful campaigns with maximum efficiency.
Gargle is the best place for all your marketing needs in dental. They are great at what they do and it's easy. It's easy to review analytics and assess how the campaigns are doing. Also, if you want to grow your office this is the best way. – A Perfect Smile (Price, UT)