We often hear how great dental websites are. In actuality, they frequently have outdated plugins, services, contact information, etc. The digital environment in which we live is constantly evolving. Using the same site design and content you've had for weeks, months, or even years is the digital equivalent of repeatedly running the same print advertisement. At best, it's a waste of your hard-earned advertising budget; at worst, a static, outdated website costs you money and patients, not to mention hurts your overall SEO performance.
Your website needs to make an excellent first impression. Within one-tenth of a second of browsing a website, your patients form an initial opinion of your practice. And 94% of first impressions are influenced by design.
Updating your website is quick, simple, and less expensive than you might think – especially when considering the number of visits your website will receive once it's updated and easier for users to navigate. So what does updating your website really do for you?
Improve Your Search Engine Rankings to Get More Patients
A well-designed and up-to-date dental website is essential to improving your search engine optimization (SEO). SEO is the practice of improving the ranking of a website on search engines like Google to attract more visitors. When you update and redesign your website, it can help improve your search engine rankings. This is because search engines continually crawl websites and look for changes. If they see that you've made updates, they'll index your website more frequently, leading to improved rankings. Many factors contribute to a website's ranking, including the design, content, and structure.
At Gargle, we understand keyword research can improve your website's ranking. Keyword research involves finding out which words and phrases people are searching for when looking for a dentist in their area. We incorporate these keywords into your website's metadata and content, which will help to improve your search engine ranking. Plus, we give you three new pieces of content each quarter to help with SEO. We also know how to utilize quality backlinks. Building quality backlinks to your website can also help improve your search engine rankings.
Increased Conversion Rates for Increased ROI
Updating and redesigning your website can help increase traffic, page views, conversions, and performance. Adding new content, changing the website's layout, adding new features, and making it more user-friendly and visually appealing can encourage more people to visit the site. Our case study below is proof that redesigning your website not only improves your website traffic but improves your clicks which also turn into new potential patients.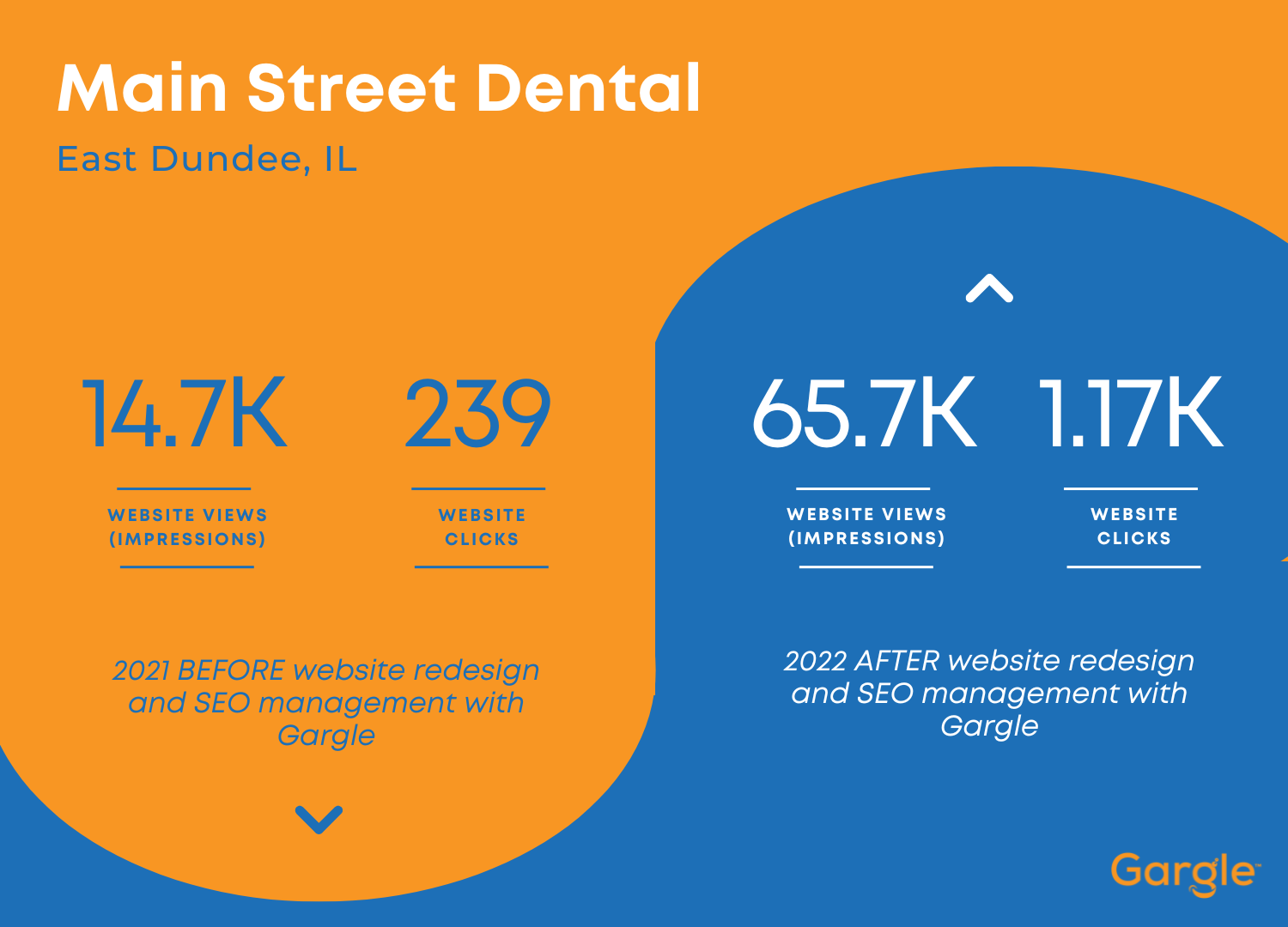 Doing competitor research will help increase your conversion optimization rates immensely. Market pressures are the leading drivers of digital transformation, as most efforts are spurred by growth opportunities (51%) and increased competitive pressure (41%). The main force behind digital transformation is competition. Utilizing data-driven insight can improve your digital transformation, enhance your position in your market, uncover new patient opportunities, and keep your practice competitive with other dentists in your area.
First, pull an analysis of your current website and compare it to 3 other dental websites in your area. You'll be able to see what they are doing and what is working for them. You can then build upon those and apply more advanced techniques to your website to attract more visitors. Please REQUEST A FREE WEBSITE ANALYSIS HERE if you need help conducting a competitive website analysis.
It is crucial to review website performance and analytics regularly. Have you received training on what those reports are trying to tell you? Website performance allows us to identify areas where your website is not performing as well as it could be and make changes accordingly. Additionally, this will help track progress over time and ensure that your website continues to attract new visitors and that your conversion rate is increasing. Results.Gargle.com was built for seemingly complex data to be simplified, more digestible, and actionable.
Responsive Websites Increase Traffic and Improve Search Engine Rankings
In today's world, it's not enough for a website to be viewable on a desktop computer – it needs to be viewable on all devices. According to StatCounter, DataReportal, "There are approximately 4.32 billion active mobile internet users. 92.1% of internet users access the internet using a mobile phone. And 62.06% of website traffic comes from mobile devices." With more and more people using mobile devices, such as phones and tablets, to access the internet, you need to ensure your site is responsive to reach all potential patients. A responsive website is a site that adjusts its layout and design to fit the device that it is being viewed on. In addition, responsive sites rank better on search engines since users and search engine algorithms see them as more user-friendly. 
Websites need to be fast and easy to navigate, with content that is well-organized, well-written, and easy to find. Is your website provider dedicated to the Dental Industry? Navigation menus by dental-specific website companies will be more intuitive. "Navigation" refers to how users move around your site, and poor navigation can make it difficult for potential new patients to find what they are looking for. 
Give your users the information they need without bombarding them with too much material. Making your site more responsive, user-friendly, and easy to navigate can help increase web traffic and improve your search engine ranking. 
Quality Websites Generate More New Patients
Your website exists for one primary purpose: to generate leads that convert into new patients. If your website isn't generating the necessary leads, it may be time to redesign. A new design not only helps to keep your website looking fresh but can also help to increase conversions. At Gargle, we have the knowledge and proficiency to help improve your website conversions.


We make it easy for visitors to reach you by adding a clickable phone number to your website. The clickable phone number will allow them to call you directly from your site, making it more likely that they'll do business with you. We also provide all of our clients with a call tracking phone number. A call tracking number will help you track your website traffic sources and see which marketing channels are most effective at generating leads. It will also give you data on the call to see how well your front office staff converts leads into patients. Plus, you can even listen to the calls! We also recognize the power of a website form. A website form is a great way to collect information from potential customers. We create custom forms that are simple and easy to use, with a CTA button that truly stands out.
You are Your Brand…
Does your website know that? When you update and redesign your website, it can help improve your brand. This is because a website is often one of the first places potential patients will go to learn about your practice. Is your website relatable to your target demographic? Do the images and local references effectively reflect the healthy smiles of your target audience? If your website is outdated or difficult to use and fails to resonate with your target patient, it may give the impression that your practice is also outdated or unprofessional. On the other hand, a well-designed website that is easy to navigate and represents your local area and the interests and quality lifestyle of your patients can leave a positive image of your brand. 
Annual Refresh is Critical 
When was your last refresh? Maybe you're still using Flash animations (gasp!). Or maybe your site just looks…dated. Whatever the case may be, there's no need to panic. A website needs constant attention and updates. When you choose Gargle, our website services include unlimited updates and a yearly refresh.
We offer website management services to keep your site looking its best. Our expert team handles website maintenance, including updates, plugins, themes, and troubleshooting. With Gargle, you can focus on what you do best and leave the website management to us. A digital makeover is a click away.
Gargle is the best place for all your marketing needs in dental. They are great at what they do and it's easy. It's easy to review analytics and assess how the campaigns are doing. Also, if you want to grow your office this is the best way. –  A Perfect Smile (Helper, UT)